« Newer Entries
» Older Entries
25.02.2013
Driftmoon, our "charmingly quirky", and "absolutely brilliant" adventure role-playing game (as some have called it), is now officially released after only seven years of development time. Seriously, I'm not kidding you, it's complete now!

First of all, a heartfelt thank you to all of our preorderers and supporters, we wouldn't be here without you!
The last hope of an enchanted world lies in an unlikely alliance: a hyperactive firefly, a queen panther with a whale-sized ego, and a fellow who's lost all but his bones. They'll take you on a journey like no other, full of amazing adventures, smiles and surprises, fantastic discoveries, wonderful stories, and fearsome foes!
We always love to hear from our players, so if you run into any problems, or think of something you want to share with us, please press the letter "F" while playing, and you can send feedback directly to us.
Remember Gareth Meek, our awesome composer? Head on over to Bandcamp, and get that Driftmoon soundtrack you've been dreaming of!
Recent Reviews:
"Driftmoon reminds of so much of what I loved about games when I was younger. The adventure, the story, the fun. It's pure entertainment and a joy to play through." (9/10)
Review at i-luv-games.com

"...it's been a long time since I enjoyed a game as much as this one. Think Quest for Glory and Frayed Knights mixed and blended together and you'll have some idea of what to expect." (4/5)
Review at rpgwatch.com

"Driftmoon works so well because all the elements blend together like a good stew where each ingredient is cooked perfectly and there's more depth to be found as you reach the bottom of the bowl." (95%)
Review at fanboydestroy.com

"Everyone who likes classic role-playing games, must play Driftmoon. A wonderful rpg with many great Features and a fantastic world. Buy it!" Translation from German provided by reviewer.
Driftmoon Review at zockah.de.


"...a delightful touch of whimsey and there's plenty of humour to be found here. How many other games would have the deadly Hoe of Doom as an early weapon? Or such wonderfully ordinary conversations with undead skeletons?" (96%)
Read Preview at Bytten

Ps. If you want to make sure you won't miss our next game (which hopefully won't take seven years to appear), make sure to get our
Newsletter
.
Ps2. If you like Driftmoon, and feel like you'd like to do something to help, we're always tremendously grateful for all help in spreading the word about Driftmoon! So do tell your friends, forum pals, Steam buddies, that grandma you think could really use more excitement in her life. Everything goes!
Here's also a link to a Facebook Fan page for Driftmoon, which Morgan just opened up for us. Thanks Morgan! Little thing like that mean a lot to us!

24.02.2013
It took us a while to complete Driftmoon. In fact, it took us over seven years. But we're here now, and Driftmoon is finally just two days away from official release! Now is a good time to look at our long journey to today.
I just read my History of Driftmoon Development written in 2009. It's mostly a history of a project called Cormoon, a game that never was. The easiest way to describe what Cormoon was going to be back in 2005 is to have a look at Terraria. Me and Michael AKA Quanrian (Thank you for the work we did together, Michael!). The same excellent team as we had with Notrium, a game that probably had millions of players at its prime. I blame the Sun. Being online at the same time is a must in a tightly knitted team, and being separated by night and day didn't help much. It was a hard decision to stop the Cormoon project, but the truth is that it would never have become a reality, no matter how long we would have worked on it. Cormoon was the classic story of failed communications, stupid planning, unrealistic expectations, and of course, a story of boy meets girl.

But you don't stop a game project if you don't have a new one in your mind! In spring 2009 the Cormoon codebase turned into the Driftmoon codebase. This is what Driftmoon looked like in 2009. Did I have a real plan? No, not a real one. I just had an idea of making an RPG in the spirit of Ultima VII. Did I have a plot written down? No, I thought I'd make it up as I went along. Never make that mistake.

It's fine to prototype and test game ideas, especially for a genre that isn't as story-heavy as role playing games. But a role playing game is all about the content, it's all about making the player believe he or she is in another world, and to take him/her on a fantastic adventure. And you can't do that without being absolutely sure what your story is about.
My lovely wife Anne joined me in developing Driftmoon, and by the end of 2009 we already had a demo available. We were planning on releasing the game soon(ish). But we still didn't have a definite idea of who the main villain actually was, who the player was, or even how the game would start. We took over a year of refining the plot, but it didn't get much further. The story we had going at first just wasn't interesting enough to convince us, and I was devastated... If I could go back to those days, I would say to myself: Get your story together!
Fortunately some very important people liked my work, and I received the 50 000€ Sammon Tekijät Award for making such excellent games. Can you guess what we invested the award money in? Developing Driftmoon, of course!

Then one evening, after countless hours of juggling different ideas (when we get going, Anne and I are real idea machines), and even praying about it, the perfect story came to us! It was exhilarating! We immediately started fitting the story into Driftmoon. In a very real sense, about two years ago, we decided to remake the game. But this time we had a story we could both stick to 100%, and it wasn't just any story, it was the perfect story!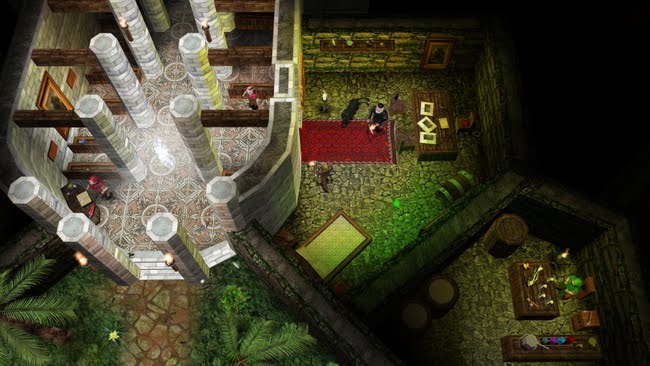 Now we had a story worth writing home to your mom about, and we only needed to make a fantastic role playing game that tells the story. I keep telling people that making the game is the easy part, figuring out which game you should be making is the hard part! We kept releasing version after version with new levels, more content. And finally we started getting the kind of results we wanted to hear, people telling us of their own free will how much they enjoyed the game, some people even told us that playing Driftmoon cheered them enough to get through very difficult times. You can't beat the feeling of hearing that your game made a real difference to someone.

By the end of 2012 we had completed the plot, and were getting ready to release the game as soon as possible. But we had a strange problem. A problem of viewpoint. By now we were getting two kinds of feedback, others who loved the game and proudly told us so, and others who kindly mentioned that they were getting vertigo just by looking at the screenshots. It's not always easy to tell people what they really need to hear, and the people who told us about the viewing angle are to be thanked two times over.

After finally realizing how many people truly had a real problem with the fully top-down viewpoint, it took us one more month to make it possible to tilt the camera. (Mind you, if you're one of those people who really liked Driftmoon better top-down, you can easily make it happen by pressing Page Up!)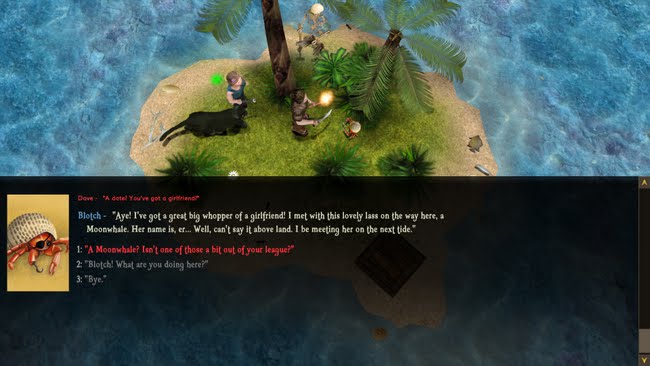 And now Driftmoon is finally complete! It's been a long and eventful journey, with plenty of ups and downs, though gladly we've mostly had fun! We've finally arrived at a game that we can proudly call our own. And what's best, I now share a common hobby with my wife (without whom Driftmoon never could have been)!

Finally, here's a big hug to everyone who has ever helped us, be it by writing about Driftmoon, voting for us at Greenlight, sending us feedback on the game, or just telling your friends! It really means the world to us, and we sincerely hope that we've lived up to your expectations.
Ps. A friendly player called Morgan just put together a Facebook Fan page for Driftmoon.
20.02.2013
Driftmoon will be released on the 26th of February 2013, that's less than a week away! Thinking back to the summer days of 2005 when all of this started, I can only say that Driftmoon has far exceeded my expectations. A lot of things can fit in seven years of development, and certainly there were times when I thought such a huge project could never be completed. But finally (and with the help of a huge amount of people - especially my developer companion and lovely wife Anne), Driftmoon is now very nearly ready!
Celebrating our soon-to-be launch, we're proud to present you with the brand new Driftmoon launch trailer! We'd be happy to hear what you think about it (...and at the same time desperately hoping you like it after all those sleepless hours of putting it together)!

Ps. Have you noticed the new Driftmoon logos yet?
15.02.2013
Here's something I've been feverishly working on for the last couple of days. It started simply enough, I just wanted my 3D model to have a bit more depth, and it turned out to be a rewrite of the code that handles lights.

Maybe you can guess which picture is which?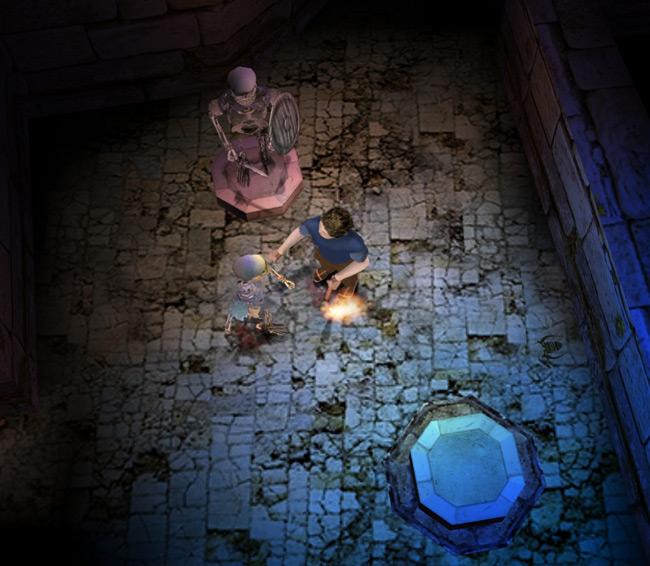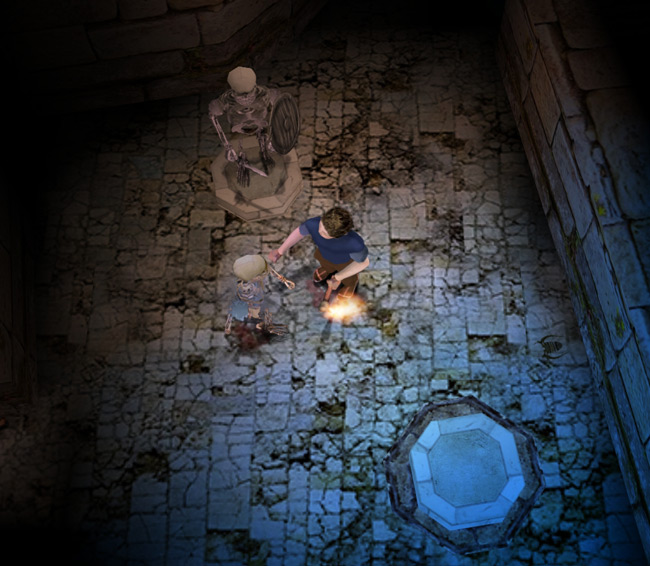 15.02.2013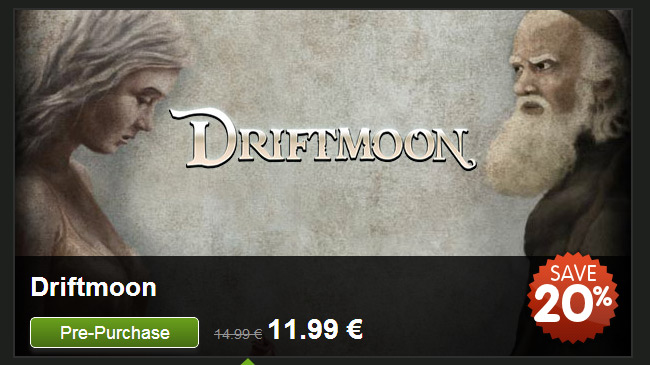 Meet Greenman Gaming, an excellent retailer from the UK, who we are confident will sell at least three billion copies of Driftmoon. It's been a real pleasure dealing with Hannah from GMG, she has been very enthusiastic about Driftmoon from the start.

Recent Driftmoon coverage:
Right now we are giving the finishing touches to the game! Yay!
Ps. There's a known bug in the current version that may sometimes prevent passing the gargoyle puzzle near the end of the game. We're going to release a bugfix soon, but before we do, be sure to save your game before attempting the puzzle. Thanks for everyone who sent a report of this! [Update] The bugfix is now live.
10.02.2013
If you've been holding your breath, waiting for this announcement, you can finally inhale (we can only hope you've survived the long wait with minimal damage): The worldwide release date for Driftmoon is now officially set for the 26th of February, 2013!
[Roaring applause, the crowd rises to its feet, and whistling fills the air.] Wow, thanks! Glad to hear you're almost as excited as we are!

Other good news: Starting from release, Driftmoon will be available through an awesome gaming site called GOG.com! In accordance to the GOG.com principles, a copy of Driftmoon that you buy there will be completely DRM-free: You won't have to license the game, and you won't even have to enable our amazing mod-list unless you want to (but obviously we do recommend enabling the mod list, to get access to all our cool mods, and all the hundreds more to come).

As an additional bonus, our composer Gareth Meek has agreed to provide 6 of his original compositions for all Driftmoon -buyers from GOG.com.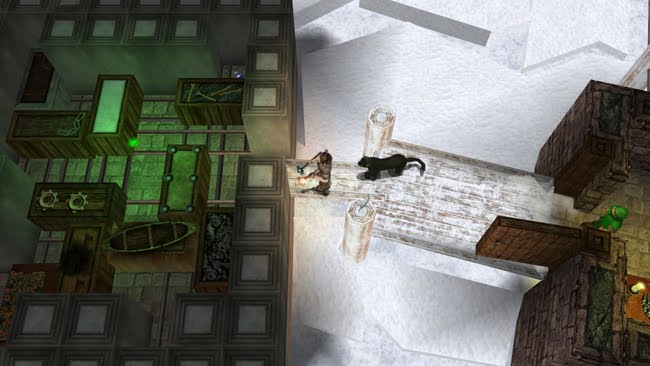 Velvet has cleverly decided that the sliding storage room is no place for a respectable panther queen.
As before, it will always be possible to buy Driftmoon directly from us as well as Desura and Gamersgate... And we should also have another distributor to tell you about soon.

Ps. Any amazing trailer ideas? A new trailer is next on our to-do list, so we're all ears...
08.02.2013
We've just released Driftmoon beta version 0.996! This is the first version featuring our new, tilted viewing angle that we mentioned earlier. It's available right here. If you haven't had a chance to try Driftmoon yet, or have patiently been waiting for us to add the angled camera feature, then now is the best time to start playing! And before you ask, yes, the full adventure is all there now, from start to finish.
I have to say that we've both been surprised by how noticeably our recent work has upgraded the graphics of Driftmoon. More importantly, it has brought the characters of the world more alive, so it has clearly been working toward our goals as developers.
An important notice to all who wish to continue from their existing saved games, and try the new angled camera. We have had to considerably upgrade some of the areas in the game to make them work better in the angled view, but those upgrades don't reach any areas that have already been opened in your saved game. That is, if you've been to an area already, you will see some small graphical errors, but they should not affect gameplay. As usual, we recommend starting from the beginning, but the game should be playable if you continue with your save.
As always, we'd be very happy to hear what you think of the new version! You can comment here, or at our forum - but the easiest way is probably still through our in-game feedback-function (press the letter "F" while playing). We're especially interested in any graphical bugs and glitches that our new visuals may have produced, but all other feedback is welcome as well.
As mentioned in an earlier post, it is possible to adjust the viewing angle while playing, by using Page Up and Page Down, so anyone wishing to stick to the traditional top-down perspective, will be able to do so very easily.

Ps. Our never-expiring Driftmoon discount codes will be available through the demo up until the end of February 2013. Be sure to grab yours before that.
Game Changelog
The camera is now slightly tilted by default. You can control the tilt with the PAGE UP and PAGE DOWN keys.
The Moon Rocket skill now works with the Mystic Staff.
Fixed a bug with some feathers being permanently stuck to objects like chairs and bookshelves.
It is now easier to target objects (especially doors) with the mouse.
Fixed game hanging when a Rollo manages to stop somehow (which was unlikely, I admit, but possible if it got in a tight corner).
The staves now work against Oozes and Spider Webs.
Modding Changelog
The mod camera tilt settings are controlled by the mod settings.ini, see the main game for reference.
The editor can be tilted with the PAGE UP and PAGE DOWN keys.
Some bot models have been updated to function better in the tilted environment. If your mod contains humans that use the model from the main mod, your bots may require additional sprites to look better in the tilted view.
The races.ini variable useInheritedGraphicsIfNotFound controls how the bot's graphics behave if there is no race-specific graphic available. We use it to inherit graphics from the default player.
It is now possible to use .obj 3D model files for all objects.
Wielded items can use .obj models by setting the wieldModel property.
New script action: turnBotToStatue is used to create the statues in the main game. This also means that Pete can update his mod to include tails for the statues!
Due to the new layers in the characters, some character sprites have been changed. This may break existing statues in mods - if it does, it might be a good idea to use the turnBotToStatue script.
Topped wall edges can now have a repeating texture, fixing the stretched look of some walls.
Animations now support cubic interpolation. Selectable via a checkbox in the animation editor.
It's now possible to use exported objects as props, such as the new trees and rocks.
The game will no longer crash if there are more than 32768 objects on the map.
The game will reuse object id numbers from deleted objects, but only if there are no longer any references to the deleted object from scripts or dialogues.
Hidden objects will no longer have physics. If you need to make an invisible object that has physics, change its alpha to 0.
It's now possible to define a damageType in items.ini, and a corresponding immunity in races.ini.
05.02.2013
It's review time again!
We just got word of a brand new review of Driftmoon, and thought we'd share it with you. Reading the review made the two of us very happy, because the reviewer had had such an awesome time with Driftmoon. By his request we also let him try out our upcoming version with the tilting camera angle (which, by the way, is currently undergoing beta testing!

The review at kelevandos.blogspot.com is originally in Polish, but the reviewer kindly sent us an English translation of the summary and the final table of his review. Here it is:
"While the release of Driftmoon is still almost a month away, I am already sure that it will be a great, unique game. For me there is no element of this little beauty that I would not like and it is really hard to find a flaw. Some time ago I could have written that the camera angle could not appeal to everybody, but Instant Kingdom changed even this, asked by the players. So I honestly recommend Driftmoon to every RPG fan and every player in general. The game is solid, full of interesting content and provides a huge amount of fun. I promise you will not be disappointed!"
Pros
Really solid RPG
Interesting story
Interesting characters
The physics engine provides a lot of fun
Lots of great ideas!
Quite a unique camera angle
A real gem!
Cons
None. Really, nothing here to criticize!
By the way, there is a little Driftmoon-related contest running at the kelevandos facebook page at least up until today (the 6th), so it might be worth checking out (you may have a chance to win yourself a copy of Driftmoon).

Ps. If someone with a lot of time on their hands for the next few days is extra-interested in joining our magnificent beta group, please send us an email!

24.01.2013
The biggest secret of Driftmoon is that it's actually 3D! I bet you thought that it was purely a top-down game, right? Maybe you thought that it would be impossible to turn the camera, even a tiny fraction? Actually that was completely true a week ago, when we suddenly started wondering how the game would look from a more angled viewpoint, and in a mad coding frenzy got to work.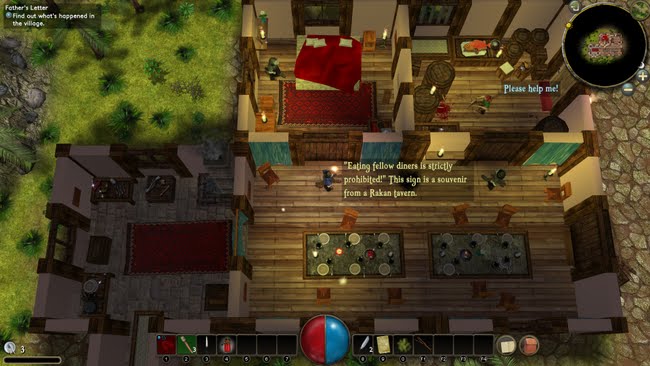 The new camera tilt feature in action, coming soon to your Driftmoon (when we get it fully working and tested)
The top-down camera angle is something that often comes up when people see Driftmoon for the first time. I've never seen a feature that divides people more, some people love it, and some people don't even want to try the game because they fear the perspective. I believe it's largely an issue of what you have become accustomed to. I started my gaming life playing games with a top-down perpective like Ultima VII, and grew up with isometric games like Planescape: Torment. The fully top-down camera of Driftmoon has never been an issue to me, but that may just be because I've been playing too many ancient games. And here's the important philosophical point, I'm not here to make games for me, I'm here to make games for other people to play. That's why we're adding controls to change the camera angle!

The tricky part is that we've originally designed the graphics with a pure top-down viewpoint in mind, and changing the camera even slightly would have resulted in everything looking very strange. That's what we've been doing for the last week, making sure things look good from an angled point of view. Having said that, it won't be possible to change the camera all that much, but I think that even this small change does makes a difference in how the game looks - for the better, of course.

But the best thing is that in the future, all of our players will have the possibility to choose the viewpoint they themselves prefer.
So, which screenshot do you prefer? The fully top-down, or the slightly tilted one?
Modders: The tilt feature won't be enabled in mods by default, but from the next version onwards, it will be possible for modders to enable it through settings.ini.
Oh, and I was just kidding you, this isn't the biggest secret of Driftmoon. You'll have to play the game to find it out.

17.01.2013
Driftmoon beta 0.993 brings you the Moon Rocket!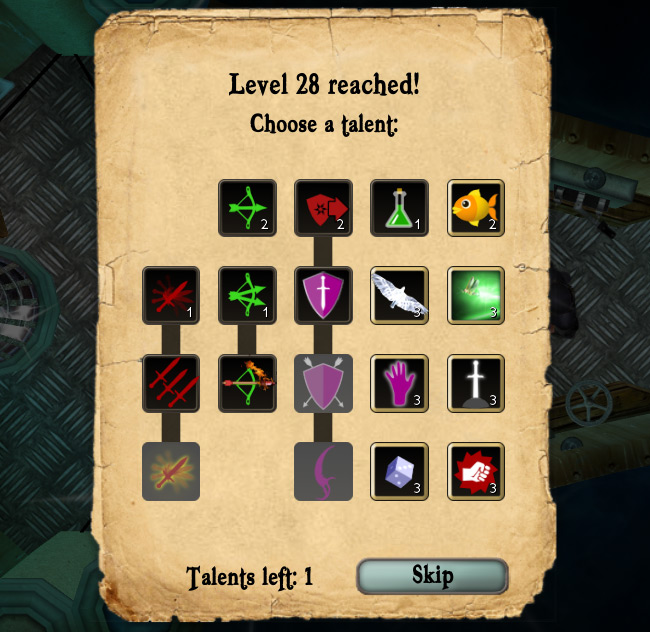 How is it that when you want to add just one archery skill, you get two? Playing a nearly purely archer character, I wanted to snipe my enemies before they could get a chance to get to me. Guess what? That wasn't possible, because the range of my archer just wasn't good enough. No problem, make a new skill for it! It's simply called Archery, and will increase your range, as well as your accuracy.
Secondly, I felt that while archery was cool by itself, it really lacked in the territory where the Whirlwind skill is good with melee weapons - crowd control. No problem, make a new skill for it: The Moon Rocket! It fires an explosive arrow that gives a very satisfying boom, and your problems are gone! Naturally you have to be a bit careful with it, you can easily hit yourself if your target gets too close, or if you accidentally hit a wall. Which is to say, playing an archer is now a lot more fun.

Other updates:
I've fixed the character movement speed on slow computers to be equal to that of faster computers. It should be noticeable if you've been getting less than 30 frames per second.
It's now possible to run away from the wolves in the Vault area, even if you've provoked them into attacking you.
For modders, the floor height painting tool now shows the heights in numbers.
« Newer Entries
» Older Entries